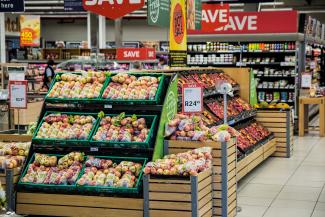 SFM Observer - November 2022
Issued: December 5, 2022
The Dow closed the month of November at 34,589 for a gain of 1,856 points or +5.7%.  A good follow through to the huge gain made during October.  The cryptocurrency world was rocked this month as one of the major companies in the space, FTX, announced bankruptcy.  FTX thought they had a lifeline for a short period of time but then the deal fell through when it was discovered that billions of dollars were missing.  This case will take years to unravel.  In other news, the election was held and the final outcome is a split Congress.  The markets like a split government because it usually means nothing major is going to change.
Some interesting events from the month just past:
•               Grocery store prices have risen 13% over the past year and the major food companies are saying that people are not giving up on their snacks.  They are buying cheaper forms of meat and switching to store brands on other items but the willingness to buy their snacks at higher prices is still intact.
•               Facebook announced layoffs of 11,000 people or 13% of its workforce as the digital ad market is slowing and the company's stock price has been crushed this year as they continue to spend billions on the metaverse.  Other companies announcing layoffs include Lyft, Amazon, Hewlett Packard and Google.
•               The markets are celebrating that peak inflation is behind us and the Fed can start to moderate future interest rate increases.  The Fed's recent comments suggest that the ¾% rate increases we have been getting this year may be coming to a close and more moderate increases will be made in the near future.
•               Carvana, the used car vending machine company is in distress.  Their cost to finance cars has doubled and they cannot count on rising used car prices.  Consumers see lower prices in the future and are holding back on buying a used car.  The stock of Carvana started the year at $240 and currently trades at $7. Investors have clearly lost confidence.
•               Stocks and bonds have traded identity this year.  Bonds are normally safer investments than stocks but this year the bond market is down -13% YTD and the Dow Industrials is only down -3% YTD.  This is an unusual occurrence in the history of the markets.
Thank you for reading this issue of the SFM OBSERVER. 
Until next month,
Glenn Sweeney CFA