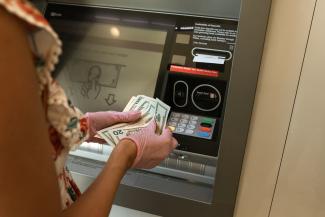 SFM Observer - March 2023
Issued: April 3, 2023
The Dow closed the month of March at 33,274 for a gain of 617 points or 1.9%.  This month was all about the banks.  After Silicon Valley Bank (SVB) experienced a massive run on deposits and was taken over by the FDIC, other banks with concentrated borrowers (big customers who know each other) suddenly showed up on the radar as being at risk of a run and investors fled, driving down their stock.  Most banks cannot withstand all their customers asking for all of their money on the same day.  This forces them to sell all of their investments at whatever price they can get and the sharks smell blood in the water.  They do not offer fair value and they are forced to sell investments that they planned to hold to maturity.  This domino pattern in the banking sector can lead to a crisis if confidence is not restored to the market.  That is the phase we are in now, restoring confidence.  As we said in a previous client email, if you have less than $250,000 in your bank or less than $500,000 in joint accounts at your bank, then you are covered by FDIC insurance, and you do not need to worry.  If you have more than that, there are some other steps you can take.
Some interesting events from the month just past:
•               The merger between JetBlue and Spirit has been challenged by the Justice Department.  They sued on the grounds that the deal would lead to higher fares for tens of millions of consumers.  I am not sure that JetBlue customers would be happy being connected to a Spirit flight.  The service levels are quite different.
•               Under new SEC rules, CEO's will be disclosing to shareholders the amount of actual compensation they receive including gains and losses on stock awards, which can make up most of their total compensation.  The CEO of Schlumberger (an oil service company) had an increase in pay of $24 million last year based on the rally in the energy stocks.  Under the old reporting method, the CEO of Eli Lilly (a drug company) reported $21 million of compensation but under the new reporting method the amount leaps to $64 million.
•               Amazon is delaying the construction of the second phase of their east coast corporate headquarters in Virginia.  Based on current employment levels, they do not need the additional office towers.  They have built two of the 22 story buildings out of five that were originally planned.
•               First was the demise of the friendly bank teller that was replaced by ATM machines everywhere.  Now, after peaking at 470,000 ATM machines, the ATM machine is on the decline as more people shun cash and buy more things online.  Cash and checks represented 42% of total transactions in 2010 and this year it is projected to fall to 14%.  The pandemic really accelerated this trend.
Thank you for reading this issue of the SFM OBSERVER. 
Until next month,
Glenn Sweeney CFA