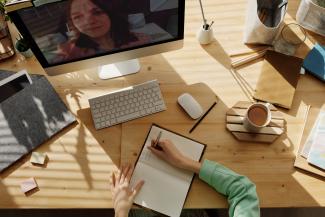 SFM Observer - March 2020
Issued: April 8, 2020
The Dow closed the month of March at 21,917 for another large monthly loss of -3,492 points or -13.7%.  The drop was constant through the first three weeks of the month reaching an initial bottom on March 23.  Market fear reached an all-time high with the CBOE Volatility Index reaching 85 (typical level has been 16 over the past year).  Government shutdowns and shelter at home orders put the economy at a standstill.  Tourism, airlines, hotels, and sports are all temporarily on hold.  The sellers dominated during the month and computer-based trading algorithms amplified the moves and accelerated the pace.  At some point, the virus will pass and a vaccine or effective therapy will be invented.  We have confidence in the capabilities of the world's scientists and medical professionals when everyone is laser-focused on the same problem.
Some interesting events from the month just passed:
•       As government-ordered shutdowns traversed the country, unemployment skyrocketed stressing the capabilities of many states to process so many claims.  Online filing has helped to lessen the load and will help people get their benefits faster.  The federal stimulus plan is also adding to the standard state benefits in hopes of creating a living wage during the virus pandemic.
•       If the Coronavirus wasn't enough to deal with, Russia and Saudi Arabia could not agree on cuts to oil production as a result of the huge decrease in oil demand worldwide.  Both countries decided to start a price war and oil prices fell precipitously as they flooded the market with crude oil.  This created an additional negative impact on the equity markets.
•       The Federal Reserve cut interest rates to near zero percent and opened up various support mechanisms to help the bond markets deal with the impact of tremendous selling pressure.  Institutional investors that use loans to make bond investments were forced to sell billions of dollars in bonds due to margin calls.  Once this cycle starts, it is difficult to stop because falling prices cause more margin calls which cause more selling.  The Fed stepped in to buy some securities directly and provided support to other market participants.
March was the month of records.  Biggest drop, biggest rally, worst month, lowest oil prices, fastest bear market, highest volatility.  It was a difficult month for all as the invisible virus traveled around the world and exacted its wrath on the global population.  Normal life ended and seclusion took its place.  The battle against the virus continues and we are seeing some green shoots that we are gaining on the enemy.  We salute the nurses, doctors, cashiers, delivery people and first responders that are on the front line taking a risk to keep the world going.  Godspeed to you all.
Thank you for reading this issue of the SFM OBSERVER.  If you have any comments or questions, please send us a message. 
Until next month, 
Glenn Sweeney