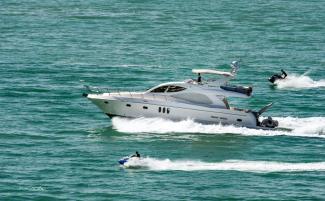 Issued: August 6, 2020
The Dow closed the month of July at 26,428 for a move up of 616 points or 2.4%.  Surprisingly, the second quarter turned out to be one of the best quarters for the stock market in the last 20 years.  It is important to remember that the end of March was a dire time and the stock market was severely depressed and at a very low level.  Year to date the markets are up slightly after the March plunge and the subsequent recovery.  We are nearing the end of the Federal stimulus measures and eviction restrictions, so the future market direction is likely to be dependent on which measures are extended and which measures are allowed to lapse.  The good news is that several vaccine trials have been successful and progress is being made on Covid-19.
Some interesting events from the month just passed:
•       Exxon Mobil, historically a very profitable company, is forecasting large losses in its refining and oil production business.  With millions of commuters working from home and vacation travel substantially diminished, oil demand is down -18% and prices are down more than -30%.  The situation is improving but still has a long way to go before pre-pandemic consumption levels are reached.
•       Bikes, boats, RV's and used cars are all hot commodities right now.  The demand level for these items has skyrocketed and dealers are exhausting their inventories.  Due to the shutdown, many factories were not producing these products and so they are in short supply.  Dealers comment that many buyers are coming in with stimulus funds to make the purchase.
•       Freddie Mac said the rate on the 30 year home mortgage fell to 2.98%, the lowest rate since rates have been tracked.  If you or someone in your family has a mortgage with a rate equal to or over 4%, you should suggest they investigate a refinance.  The savings can be significant and provide a nice boost to the monthly budget.
•       The economy contracted at a -32% annualized rate during the second quarter as state and federal governments shut down wide swaths of the economy.  Typically, the economy grows or shrinks by low single digits on a quarter to quarter basis.  A drop of this magnitude was one of the main reasons the Fed came into the market with trillions of dollars of support to keep the economy going and prevent a depression.
Thank you for reading this issue of the SFM OBSERVER.  If you have any comments or questions, please reach out to us. 
Enjoy the rest of your summer,

Glenn Sweeney