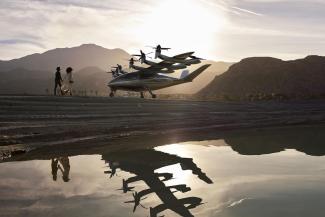 SFM Observer - February 2021
Issued: March 8, 2021
The Dow closed the month of February at 30,932 for a gain of 950 points or 3.2%. The oil markets have come to life with the rise in the price of crude oil.  Oil started the month at $52/barrel and ended the month at $61/barrel for a 17% increase in one month.  That is a big jump in a key commodity.  You will see it soon at your local gas station.  The increased volatility of 2021 continued in February with the end of the month experiencing large daily moves in the stock market.  We expect this higher level of volatility to continue.
Some interesting events from the month just passed:
•            Amazon is getting a new CEO.  Founder, Jeff Bezos is stepping down as CEO and maintaining his position as executive chairman.  A longtime executive is taking his place, Andy Jassy.  Bezos wants to spend more time on his other ventures, Blue Origin (spacecraft) and the Washington Post newspaper.  He will still be leading Amazon's strategic vision and strategy.
•            DoorDash, the largest food delivery company, purchased Chowbotics company.  Chowbotics manufactures robotic machines that whip up salads and single bowl offerings and installs them in universities and hospitals.  DoorDash increased their operations significantly during the Covid shut down of 2020.
•            United Airlines is buying flying electric taxis to bring you to the airport.  These small electric airplanes can fly short distances and land and take off like a helicopter.  The idea is to remove the hassle and congestion caused by people driving to major airports (like Logan).  It is an interesting concept.
•            Goodyear tire company is buying Cooper tire company in a $2.8 billion dollar deal.  This will be the largest U.S. based tire company and both companies are headquartered in Ohio.  They are hoping to gain market share in the replacement tire market.  Both companies were hurt last year when they were forced to shut down.
•            Walmart is raising pay for hourly workers to an average above $15/hour.  The country's largest private employer said the increase would impact 425,000 workers.  Walmart registered a strong year in 2020 and a good holiday season.
•            Household income took a big jump in January as the $600 stimulus checks and $300/week unemployment supplements entered the economy.  This creates new potential demand for goods and services.  The second stimulus bill currently being voted on will pump even more money into the economy setting the stage for a strong post-Covid recovery.
Thank you for reading this issue of the SFM OBSERVER.  If you have any comments or questions, please send us a reply.  If you have a friend or associate that might be interested in the SFM OBSERVER, feel free to forward this email. 
Thank you for reading this issue of the SFM OBSERVER. 
Until next month,
Glenn Sweeney