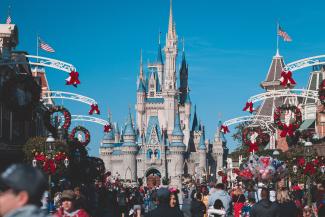 SFM Observer - February 2020
Issued: March 4, 2020
The Dow closed the month of February at 25,409 for a very large monthly loss of -2,847 points or -10.0%.  The entire drop occurred during the last week of the month as the world anticipated the economic fallout from the Coronavirus.  Supply chain disruptions, travel restrictions, quarantines and a general sense of fear of the unknown fueled a cascade of selling stocks and other risk assets.  Some industries will be sharply impacted by the virus (airlines, cruise lines, tourism) and others will have a limited, if any, impact (utilities, technology, real estate).  As usual, the fear-based selling sold everything indiscriminately and the computer-based trading algorithms amplified the moves and accelerated the pace.  At some point, the wave of fear will pass and the market will resume trading on earnings, sales, and industry specifics.
Some interesting events from the month just passed:
•      The video streaming service, Disney +, is doing very well.  When the service launched in November, they rapidly signed up 10 million subscribers.  By the beginning of February, they tripled subscribers to 28 million subs.  A low price combined with excellent content is a winning combination.
•      Small businesses with less than 20 employees did not add to their workforce in 2019.  It is the first time since 2010 that small business employment numbers were stagnant.  Large employers with greater than 500 workers increased their workforce by over 2%.  In a tight labor market, it is hard for a small employer to match the benefits and pay scale that larger companies offer.
•      Simon Property Group, the largest mall owner in the U.S., is doubling down in a terrible market for malls and buying a controlling interest in Taubman Centers for $3.6 billion.  Simon has a strong balance sheet and sees a good fit with its existing portfolio.  Taubman owns 26 luxury malls with upscale tenants.
•      Pier 1 Imports filed for bankruptcy and is looking for a buyer.  The home goods and furniture retailer is suffering from online competition and discount retailers like Home Goods.  The company tried to build an online store but it was too little, too late and margins continued to decline.
•      Sprint and T-Mobile finally have approval for their merger.  The combined company will present a challenge to AT&T and Verizon and will have 90 million U.S. customers.  The deal was originally announced nearly two years ago and has been tied up in court on various anti-trust challenges.
•      General Electric did some serious downsizing last year.  The company cut 78,000 employees in 2019 to return to the employee level the company had in the year 1951.  The major drop was caused by exiting the oil and gas industry and selling their transportation business to Wabtec.  The company now employs approximately 200,000 employees.
Thank you for reading this issue of the SFM OBSERVER.  If you have any comments or questions, please send us a message. 
Until next month, 
Glenn Sweeney