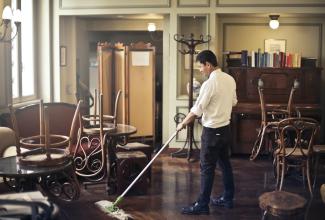 SFM Observer - December 2017
Sweeney Financial Management
A concise review of the month in investment markets. 
The Dow closed the year at 24,719 for a monthly gain of 447 points or 1.8% capping off a big year for the equity markets.  The Dow rocketed ahead 28.1% for the year with gain after gain on a monthly basis.  The Dow started the year at 19,762 and ran up almost 5,000 points in a steady, continuous advance.  In an unusually large divergence, the S&P 500 returned 21.8% for the year trailing the Dow index by 6%.  Bond returns were much closer to original forecasts for the year coming in at 3.5% total return.
Some important events from the month just passed:
China's tech industry is being used by the Chinese government to find out information on suspected criminals and other persons of interest using Alibaba, Tencent and other Chinese tech companies.  The companies provide detailed information on its customers using social media and other web applications.
Foreign investors are increasing their investments in U.S. companies as they see good profit growth and favorable tax policies leading to continued growth in the sector.  Foreign investors own 14% of U.S. equities and in prior years had been reducing their exposure to American companies.
Christmas sales were up approximately 5% for the year bringing some welcome business to the nations retail industry.  Thanks to low unemployment and wage gains all levels of shoppers were active this Christmas season.  Upper-income shoppers were splurging on expensive items and middle-income families had extra funds to provide some gifts for their families.
Japan has the lowest unemployment rate they have experienced in 24 years.  The figure stands at 2.7% indicating that many jobs are not being filled due to a lack of qualified applicants.  The Japanese economy has been expanding slowly since 2012 under the leadership of prime minister Shinzo Abe.
The Federal Reserve raised short term interest rates by 0.25% at their December meeting as expected.  The new prime rate for borrowers in the United States is 4.5%.  Further increases in 2018 are expected.
Congress passed tax reform and the President signed it into law in a much debated and hastily negotiated deal.  Corporate taxpayers were the big winners and that is likely to be reflected in stock prices going into the year 2018.  A corporation that does the same business it did in 2017 will show a substantially higher net income solely due to the new lower tax rates.
Thank you for reading this issue of the SFM OBSERVER.  We at SFM wish all of you a happy, healthy and a prosperous new year.  If you get a chance, give us a "like" on Facebook.
Until next month,
Glenn Sweeney