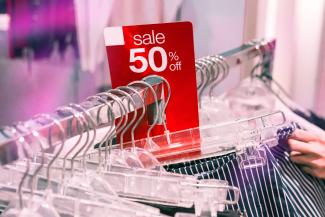 SFM Observer - August 2019
Sweeney Financial Management
A concise review of the month in investment markets.
Issued: September 4, 2019
The Dow closed the month of August at 26,403 for a monthly loss of -461 points or -1.7%.  The major news in the investment markets this month were fits and starts pertaining to the trade war with China.  When tensions increased, the market fell.  When tensions eased, the market rallied.  Interest rates fell during the month leading to concerns regarding zero or negative interest rates on government bonds.  Germany and other foreign government bonds already have negative interest rates.  This would create a difficult environment for retired individuals trying to live on interest generated by bonds, CD's and other fixed-income investments.
Some interesting events from the month just passed:
•    Airbus is on track to overtake Boeing as the number one commercial aircraft producer in the world.  Boeing continues to struggle with the 737 MAX problem with no clear resolution date in sight.  Airbus delivered 389 planes in the first half of 2019 which is an increase of 28% over the prior year.  Airbus profits are also up strongly.
•    Amazon and FedEx have cut ties and FedEx will no longer be delivering packages for Amazon.  FedEx plans on delivering packages for Amazon's competitors like Walmart and Target as well as their much larger business to the business delivery segment.  Amazon believes they can handle the big Christmas surge with their own drivers, UPS, and the U.S. postal service.
•    Total U.S. home mortgage debt reached a new high in the second quarter to $9.4 trillion dollars.  The previous peak was $9.3 trillion just before the financial crash in the third quarter of 2008.  The good news is that rates are lower now and so are delinquencies.  It appears Americans are being more prudent with debt now than they were 11 years ago and not using home equity loans to buy more houses, vacations, cars, and other discretionary items.
•    For a business that was once a powerful retailer selling products consumers wanted to buy, J.C. Penney has fallen about as far as you can go and still be in business.  Last month they announced they are going to start selling second hand clothes in their stores.  This will be an interesting experiment.  In addition to having a problematic revolving door in the executive suite, J.C. Penney also might get delisted by the NYSE due to their current share price of 72 cents.  At some point, the challenges become insurmountable.
•    Volkswagen has engineered an all-electric vehicle named I.D.3 which is going into production now.  It will be available in Europe for the equivalent price of $33,000 by the end of the year.  VW does not plan to sell this car in the U.S. but they do plan to do a SUV version of this vehicle for the American consumer in the near future.  The company plans to make a big push in electric powered vehicles and make them a mainstream alternative for the middle class consumer.
It's back to school time!  Good luck to all the students this year.
Thank you for reading this issue of the SFM OBSERVER.  If you have any comments or questions, please send us a reply.  
Until next month, 
Glenn Sweeney