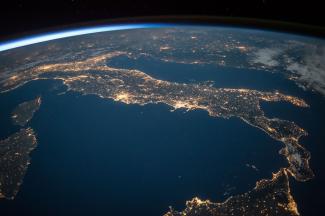 SFM Observer - April 2022
Issued: May 4, 2022
The Dow closed the month of April at 32,977 for a loss of -1,701 points or -4.9%.  It was a rough month across the investment markets with the S&P 500 down -8.7% and the bond market also suffering losses during the month of April as interest rates continue to rise. It is an unusual occurrence to have stock and bond markets fall at the same time for a prolonged period.  The last time both stocks and bonds fell for a full year was 1994.  That was 28 years ago.  It is unnerving for conservative investors because usually bonds will cushion a fall in stocks and vice versa.  This year there are very few investments generating positive returns.  Energy is the big standout.  In the long run, higher interest rates will be good for savers and the average retiree.  You will once again be able to go down to your local bank and buy a CD that actually generates some income.  We expect the gyrations in the markets to continue for the remainder of this year and we expect, at the portfolio level, these short term losses to reverse in the future.  This market correction will definitely create some permanent losses in some overvalued stocks but a well-diversified portfolio should fare well in the long run.
Some interesting events from the month just past:
•               Elon Musk and Jeff Bezos are competing to deliver internet and streaming services from space.  Both entrepreneurs, through their respective companies, are launching low orbit satellites capable of sending a signal to your phone or tablet anywhere on the planet.  If they are successful it would eliminate all of the "no service" zones and dropped calls we all deal with today.
•               Inflation reached 8.5% in March compared to the same month last year.  That is very high and is not sustainable in the long term.  The Federal Reserve will take a hard look at how to extinguish some demand for goods and services and bring this number down.  Gas was up over 10% and food was up 1.5% in just one month.
•               Change is happening in the electric utility industry.  Power transmission companies are ramping up infrastructure spending to upgrade their aging lines and they are getting prepared for millions of people charging electric vehicles in their garage.  In addition, there is a major effort to harden the grid so it can withstand all of the storms, tornadoes and fires raging across the country on a regular basis.  Since electric rates are in part based on the cost of their infrastructure, we can expect to pay more for electricity in the coming years. 
•               Blackstone invested $12.8 billion in student housing buying American Campus Communities, Inc.  ACC is the largest public owner of private college housing and now that the pandemic has subsided, students are returning to campus.
•               Elon Musk is taking Twitter private in a deal valued at $44 billion.  The company initially resisted his takeover but once Elon lined up the financing, they found themselves backed into a corner.  Musk is one of the most popular people on Twitter with 80 million followers reading his tweets.
•               A bad month for the NASDAQ ended with a rout on the last trading day of April. The composite dropped -13% during April putting this index in bear market territory.
Thank you for reading this issue of the SFM OBSERVER. 
Until next month,
Glenn Sweeney CFA