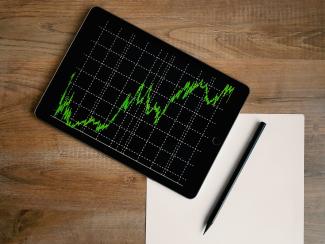 SFM Observer - April 2020
Issued: May 6, 2020
The Dow closed the month of April at 24,345 for a monster bounce of 2,428 points or 11%.  The market actually put in a selling cascade low on March 23 and then started to recover the last week of March.  April was a full follow through with a well-defined uptrend.  The economic and GDP numbers will definitely be terrible for April as most of the country was under a government-mandated shutdown.  With the Federal Reserve and Treasury in full support mode of the debt markets and interest rates near zero, equities have a support structure underneath them.  It is still difficult to see the sustained rise in the equity markets with almost one in five Americans unemployed and a long, steady march of bankruptcies to come.  It is a little like Evil Knievel saying I can make it to the other side of the gorge.  Maybe he will, maybe he won't.
Some interesting events from the month just passed:
•       Jamie Dimon, the CEO of JP Morgan bank, said his bank can support the economy through what he sees as a bad recession coming out of the coronavirus.  The increased capital levels that the Fed required coming out of the Great Recession put the major banks in a good position to deal with the anticipated fallout.  The other major banks should fare better as well.
•       $350 billion of small business loans included in the stimulus bill went oversubscribed and sold out quickly as thousands of businesses lined up for the funds.  The government quickly added funds to help support the struggling firms as a few large companies made the headlines for taking funds not intended for them.
•       Amazon hired 80,000 people in just a few weeks' time  and  Wal Mart added 65,000 in a similar time frame.  Both companies are seeing a surge in business as the stay at home economy takes hold.  They are being inundated with orders and struggling to meet demand.     In addition, they are being challenged by the operational requirements of keeping their employees safe in the workplace.
•       State Farm is refunding $2 billion in auto insurance premiums as the country stays at home and miles driven plummets.  The program covers 40 million vehicles and the average refund is $20 per car per month.  If you own two cars the refund would amount to approximately $80 for the current two-month shutdown.
•       Synchrony Bank and Discover are suspending payments for many of their credit card customers as the layoffs continue and other bills take precedence.  They are preparing for record level bad debt charges as many people were overextended before Covid-19 hit.   They are also closing idle accounts and lowering lending limits as they try to contain the write-offs.  Synchrony supplies many of the private brand credit cards like T.J. Maxx and J.CPenney.
Thank you for reading this issue of the SFM OBSERVER.  If you have any comments or questions, please send us a message.
Stay well and please social distance,
Glenn Sweeney