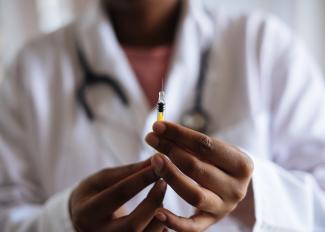 SFM Observer - November 2021
Issued: December 8, 2021
The Dow closed the month of November at 34,483 for a drop of -1,336 points or -3.7%. This loss is similar to the loss sustained in September and is typical of the volatility experienced during the fourth quarter of the calendar year.  Jerome Powell has been renominated as head of the Federal Reserve after some debate in the Biden administration.  The markets prefer a steady course at the Fed and don't like change at the top.  The holiday shopping season met expectations with Black Friday and Cyber Monday logging strong sales.
Some interesting events from the month just passed:
•               The Federal Reserve has acknowledged that the U.S. has an inflation problem that needs to be dealt with.  They are speeding up their plans to remove stimulus (money) from the economy and possibly raise interest rates next year.  Inflation builds inertia like a snowball going downhill and you need to stop it before it gets out of control.
•               Pfizer expects to deliver 2.3 billion vaccine doses generating sales of $36 billion.  The distribution has been skewed towards wealthier countries with the infrastructure to deliver the shots and refrigerate the vaccine in transit.  Next year, they expect more "at cost" vaccines to be delivered to poorer countries with the assistance of the various relief agencies.  The goal for Pfizer is to ramp up capacity to 4 billion shots per year.
•               Rivian, the next big electric vehicle company, went public during November with great enthusiasm from investors.  The company exceeded all expectations for demand and the stock climbed rapidly.  Amazon owns 20% of the company and has ordered 100,000 electric delivery vehicles which you may see coming down your driveway next year.
•               Johnson & Johnson announced plans to split up into two companies.  One company will house their pharmaceutical drug business and the other company will sell consumer goods such as Tylenol, Band-Aids and Q-Tips.  The split is planned to take place over the next two years.
•               Individual investors have come into the stock market in droves over the last year as easy access sites like Robinhood and checks from the government have flourished.  They tend to buy the stocks whose products they like or the spokes people they admire and they don't care about or understand valuations.  Stories like this usually don't end well.  Time will tell.
•               The ranks of the self-employed have grown by 500,000 since the pandemic.  Many people decided not to return to work after Covid shut downs and strike out on their own as consultants, retailers or small business operators.  Many people have changed their priorities as a result of the pandemic and how it affected their lives.
Thank you for reading this issue of the SFM OBSERVER. 
Until next month,
Glenn Sweeney, CFA