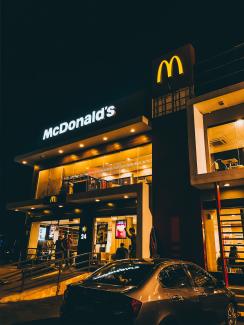 Issued: June 2, 2022
The Dow closed the month of May at 32,990 for a return of 13 points or 0%.  It was another rough month across the stock and bond markets. Stocks rallied hard only to fall just as fast the next day as investors try to forecast the trajectory of the economy and the direction on interest rates.  Mixed signals on inflation, corporate earnings, short and long term interest rates and the health of the consumer is creating a perfect storm for investors.  Europe's decision to wean itself off Russian oil is a noble goal but it is adding support to high oil prices for the foreseeable future.  The Fed meanwhile raised interest rates ½ % this month so the interest rate on most home equity loans will go up by the same amount (much faster than your deposit rates will change).  Gas prices continue to climb and the summer driving season is getting underway.
Some interesting events from the month just past:
•               Take this job and &%#@ it was heard across the country during March as the number of workers who quit hit an all-time record of 4.5 million.  With a hot job market, workers have options and many took advantage of that opportunity to move to greener pastures.  Consumer facing industries have the most openings as entertainment and travel industries come back to life.
•               Spirit Airlines rebuffed JetBlue as they tried to break up the existing deal between Spirit and Frontier Airlines.  Spirit management wants to pursue the original deal with Frontier on the basis that is safer and less likely to be blocked by regulators.
•               McDonalds is permanently leaving Russia, three decades after it opened its first store in Moscow to much fanfare.  They are going to remove the name from their stores and sell the assets.  Other major companies have also abandoned Russia over its unprovoked invasion of Ukraine.
•               Broadcom is negotiating a takeover of VMware in a deal valued at $60 billion.  This is a bold move in a market that is devaluing tech firms by 10% to 30% on a regular basis.  All it takes is one quarter of missed earnings and the market puts your valuation on the chopping block.
•               In the good news on inflation department, lumber future prices are coming down very quickly.  Board feet prices from March to now (3 months) are down -40% for some products which is welcome news to anybody looking to build a home.
•               Tax receipts by the Treasury were $863 billion in April creating a monthly surplus of over $300 billion.  Many taxpayers told us this year they owed much more than usual so this does not come as a surprise.
Thank you for reading this issue of the SFM OBSERVER. 
Until next month,
Glenn Sweeney CFA