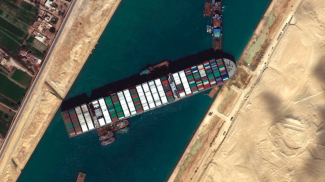 SFM Observer - March 2021
Issued: April 1, 2021
The Dow closed the month of March at 32,981 for a gain of 2,049 points or 6.6%.  It was a wild month in the stock market with social media groups organizing some massive buying and selling frenzies in GameStop and the AMC theater chain.  Some big hedge funds were caught in the crossfire and lost billions when they were forced to cover short positions.  Despite some odd activity in isolated stocks and sectors, the Dow had a great month.  Value continues to outperform growth stocks.  Interest rates are moving up on anticipation of a strong post Covid boom in the economy coupled with large additional government stimulus.
Some interesting events from the month just passed:
•             Supply chain problems are interfering with the post Covid rebound as chip manufacturers, furniture, clothing, auto and cell phone makers are all being hit with parts shortages.  A ship stuck in the Suez Canal, storms, floods and blocked ports are all contributing to the problem.  It will take months to unclog all of these bottlenecks.
•             Pfizer is planning on using its Covid vaccine as a platform to attack other diseases.  The mRNA technology can be rapidly deployed if other applications are found and the new vaccine strategy comes with less side effects.  The healthcare industry is one which will be permanently changed by the pandemic.
•             There are now more realtors in the U.S. then there are houses for sale.  The rapid decrease in homes for sale caused by a surge in buyers coupled with many people choosing to become realtors have created the upside down relationship.  The new realtors will soon find out that earning a commission is not that easy.
•             Netflix is cracking down on freeloaders.  The company knows when multiple people are using the same password and they are starting to send out phone texts to verify the subscriber.  The streaming providers will also send out emails to let you know your account may be hacked.
•             Canadian Pacific railroad and Kansas City Southern are combining to create the first rail network that will connect Canada, the U.S. and Mexico.  The deal faces a long regulatory process since it involves three different countries and must gain all of their approvals.
•             Southwest delivered some overdue good news to Boeing ordering 100 737 Max aircraft.  Southwest has built their entire fleet using Boeing and they decided it made sense for them to continue their single supplier strategy.  Management is confident that the safety issues have been addressed and remedied.
Thank you for reading this issue of the SFM OBSERVER.  If you have any comments or questions, please send us a reply.  If you have a friend or associate that might be interested in the SFM OBSERVER, feel free to forward this email. 
Until next month,
Glenn Sweeney