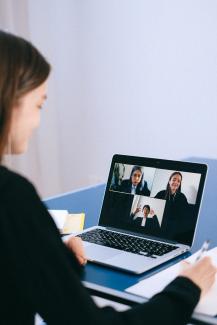 Issued: July 9, 2020
The Dow closed the month of June at 25,812 for a move up of 429 points or 1.7%.  The U.S. stock market has rebounded 36% off the lows set in March as optimism about reopening's and progress on the vaccine pervade the minds of investors.  Another factor is the emergence of new small retail investors coming into the market as they stay at home.  With sports shut down, they need something to bet on and the stock market is easy to access with new trading platforms like Robinhood that allow small investments.  In contrast, several parts of the world are still suffering as their major markets are still down double digits.  The Stoxx Europe 600 is down -16% and Hong Kong is down -19%.
Some interesting events from the month just passed:
•       New home sales made a nice recovery in May as total new sales increased 21% year over year.  March and April saw big increases in cancellations and some of those sales moved into May.  Record low mortgage rates are helping the market.  Sales in Florida were the strongest, up 59% and the Midwest was also strong.  Sales fell in the Northeast.
•       Zoom Video has become a household word with the work from home lifestyle and personal meetings and virtual parties being held on weekends.  First quarter sales were up 169% over last year.  Analysts expected $3.2 million in net income and the company reported $27 million net income.
•       Since the beginning of March, Americans have skipped payments on 106 million loans through the end of May.  Most of these loans are student loans but there are millions of auto, mortgage and credit card loans in some form of forbearance or deferment.  The credit rating agencies are not altering the credit scores of people in deferment creating a hazardous environment for companies making loans now.
•       Pilots and other staff face large layoffs as the major air carriers prepare for the end of the government stimulus that required them to keep employees on the payroll.  With air travel down, flights reduced and restrictions on international travel, the industry is in a brutal storm.
•       Colleges are doing more discounting and negotiating with students and parents as enrollment dips for the new school year.  Colleges need the students desperately and parents need the savings as the economy attempts to adjust to the Coronavirus pandemic.  Both parties are suffering and looking for ways to conserve savings.
Thank you for reading this issue of the SFM OBSERVER.  If you have any comments or questions, please reach out to us. 
Stay well and enjoy the outdoors,
Glenn Sweeney