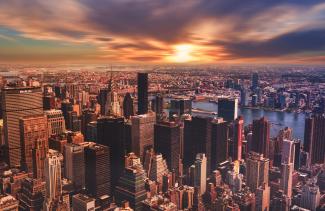 SFM Observer - December 2019
Issued: January 9, 2020
The Dow closed the month of December at 28,538 for a monthly gain of 487 points or 1.7%.  For the year 2019, the Dow climbed a huge 5,211points!  With dividends that translates to a return of 23.8%.  The S&P 500 did even better, finishing the year with a return of 30.4%.  The 2019 equity returns were all about multiple expansion and not impressive earnings growth.  Earnings growth is likely to come in mid-single digits for the S&P but price/earnings ratios rose significantly for many stocks.  In addition, the market averages are being driven by a narrow slice of large tech companies.  The Federal Reserve brought the punch to the party by lowering interest rates and adding money to the financial system.  Although we are happy with the returns earned by clients, we would like them to be supported by better underpinnings.  Hopefully 2020 will bring a better earnings picture and a more supportive global backdrop with a resolution (or partial resolution) to the trade war with China. 
Some interesting events from the month just passed:
•     Credit unions are expanding and becoming more aggressive in lending to consumers.  Since credit unions are exempt from federal income tax and owned by their members, they can offer better savings rates and lower loan rates.  They also tend to be less punitive with fees.  If you or someone you know has a need for a personal loan or a home equity loan, they might save some money by checking out a local credit union.
•     Amazon, Facebook and Google are all becoming major tenants in the New York City office market.  Combined, they have recently leased over 1 million square feet on the West Side.  They all want access to the highly educated NYC workforce.  So Amazon is still coming to New York despite pulling out of the HQ2 deal in Long Island City.
•     The trade dispute with China has made some progress with the Trump administration agreeing to roll back some of the tariffs if the Chinese commit to buy $50 billion in agricultural and other products in 2020.  The Chinese negotiators indicated they would agree to this deal.
•     Delivery vans are one of the fastest growing segments in the auto industry.  Amazon and other e-commerce companies are pumping up demand for small vans and the auto makers are responding by increasing production.  The market is forecast to grow double digit for several years to come.
•     The combined value of global mergers and acquisitions was $3.8 trillion in 2019.  This is one of the top five years for M&A in history.  The largest deal last year was the combination of Raytheon and United Technologies at $86 billion.
Thank you for reading this issue of the SFM OBSERVER.  If you have any comments or questions, please send us a message. 
Until next month, 
Glenn Sweeney