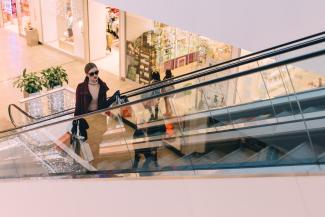 SFM Observer - August 2018
Sweeney Financial Management
A concise review of the month in investment markets. 
The Dow closed the month of August at 25,964 for a gain of 549 points or 2.2%.  A strong monthly gain for a summer month when most big traders are typically on vacation.  We are now in the post labor day season when the investing community starts focusing on year end strategies and the outlook for 2019.  The tariff wars remain a concern for the markets but some good news on the Mexico trade deal relieved investors during the month.
Some important events from the month just passed:
Brookstone, the quirky mall retailer, is filing for bankruptcy and plans to close over 100 mall locations.  The store is known for browsers but few buyers.  The company is headquartered in Merrimack, New Hampshire.  The company originally started as a catalog company selling hard to find tools.
Profit growth is very strong in corporate America right now as the combination of a strong, confident consumer and tax cuts along with a rise in incomes sets the stage for good sales across the economy.
Oil refiners are doing particularly well this year as a surplus of oil being pumped this year allows them to buy crude cheap but the demand for gasoline and jet fuel remains high.  Pipeline bottlenecks contributed to the situation and are a long term problem for the oil producers.
Estee Lauder reported a 12% increase in sales as women are buying their superior skin care products.  They are also experiencing success with their airport outlets as travelers waiting for flights buy the products and add them to their carry-on items.
Orders for tractor-trailer rigs is at an all-time high this year.  The business of moving products around the country is very brisk and the backlog in heavy rigs is about 9 months right now.  Orders are on track to reach 450,000 trucks this year.
Thank you for reading this issue of the SFM OBSERVER.  If you have any comments or questions, please send us an email.
Until next month,
Glenn Sweeney CFA